Name: Kristine
Age: 18
Location: Greenfield
Interests: LARPs, RPGs, politics, photography
Your geekiest achievement: Getting my e-mail on my favorite political speaker's national television show. AMAZING.
Also becoming alpha of the city and dying in one night of gaming. Great time to get blown up. =P (LARP story)
Name something that should be added to this communities interests list: larp, ad&d, sci-fi, MST3K, rating community (I mean it is one, right?)
Who is your favorite famous/historical/fictional geek, and why? Well, technically he's a nerd. However, Brian Tochi because a drunk Japanese man on a tricycle is great stuff. Let alone the playing of "A Bicycle Built for Two" in Japanese in the background.
(If you don't understand what I'm talking about, SHAME ON YOU.)

Favorite..
-Movie? Enemy at the Gates (Woo for WW2 geeks!)
-Book? Who's Looking out for You? (Woo for political geeks!)
-TV show? Family Guy (Woo for anyone with a great sense of humor!)
-Fandom? Anime (Woo for anime geeks!)

Explain what makes you the geekiest geek that ever geeked: I LARP, have dressed up like my character for extra XP consecutively, and am proud of it. I'm also president of my school's Japanese Club.

Please attach at least 3 pictures of you with explanations of them, and one 100x100 pixel picture for our members page. REMEMBER, THE GEEKIER THE BETTER!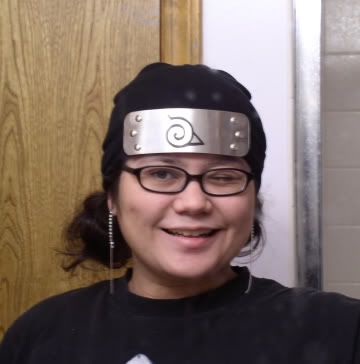 Anyone who knows anime knows Naruto!


Me in Japan a couple of years ago.


Did someone mention swords?